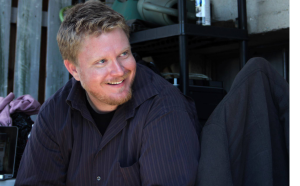 Anthony grew up on the seven hills of Cincinnati, Ohio. As an only child, he kept himself amused by concocting epic adventures for his teams of action figures, a fondness for storytelling that has continued to this day. His interest in the arts really took off at the age of nine when he picked up a trumpet for the first time and discovered the allure of music.
The trumpet served as his primary artistic outlet in marching, jazz, and symphonic bands throughout high school and college. That is, until a fateful night in late 2000 that involved gin and tonics, the movie Swingers, and an Earth-shattering epiphany. Overnight his career and life paths changed, beginning in earnest his pursuit of filmmaking.
Since graduating The Ohio State University in 2003 with degrees in Psychology and Film Studies, Anthony worked in broadcast television and the hotel audio/visual industry until beginning graduate film school at USC in 2007.
While at USC, he produced a number of advanced films, as well as a music video for recording artist Lifehouse through a competition sponsored by Heineken. Anthony wrote and directed his thesis film, Found, which screened at over 20 film festivals around the world and won multiple awards. His career focus is on directing genre films with compelling character-driven stories that delve into matters of the human spirit.
Anthony directed his first feature in 2020 and is currently in post production.